Posted by Fergus on 24th Apr 2020
Remember when we could all head out to our favourite cafe, meet up with friends, drink delicious coffee, high five, hug and go about our day? Covid-19 has dramatically disrupted our day to day lives, and many of our favourite coffee shops have been forced to close temporarily or drastically alter their business models in order to keep operating. The consumer (you!) has had to shift their habits and their routines, with many choosing to brew coffee at home rather than head out into the scary post-Covid-19 world. Well fear not coffee lovers, we have devised a way for you to brew at home whilst still supporting your local!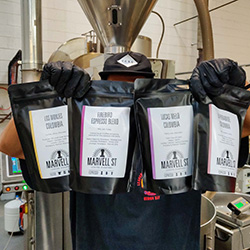 Gram for Gram is our response to Covid-19 and the name says it all really. Every one of our wholesale customers has been given a unique coupon code (hint it's the cafe name), anyone who orders coffee from our website and uses one of the codes receives 10% off their order and the cafe receives a 100% credit for every gram of coffee sold.
In the three weeks our Gram for Gram initiative has been running we have credited back over $1000 dollars worth of coffee to our awesome wholesale customers, and with lockdown restrictions still in place, there is plenty of time for more coffee credits to be given out.
I spoke with Kirsten, co-owner of Nostalgic Barbershop and Espresso Bar in Lismore, who have racked up an impressive 6.5kgs in coffee credits so far, which is over 600 cups, "It's a massive help. We are so grateful and overwhelmed by this initiative. We are a small family business so having credit for coffee or anything is gold". Kirsten explained that whilst Covid-19 has impacted her trade dramatically she feels it presents an opportunity for the community to come together "taking this time to reset and focus as communities on how to connect, grow and support each other locally is something that I'm finding everyone is practising".
Laurie, owner of Orwells Coffee in Potts Point Sydney echoed a similar sentiment when asked about the challenges ahead "I'm confident that as a community we will get through this but a little fuzzy on the details. Please continue finding ways to support small business as they pivot and find new opportunities in the current climate. Buy from them, maintain your relationships and when things return to normal, be there to show your support."
Laurie says the coffee credits Orwells has accrued through Gram for Gram will "drastically reduce the burden of cash flow' as they navigate the uncertain waters ahead and that it "fills us with confidence that we are able to maintain a relationship with our customers through the process".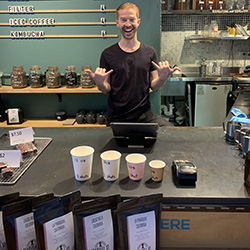 Orwells owner Laurie.
So how can you, the coffee lover stuck at home keep supporting epic small businesses like Orwells and Nostalgic during all this? Easy!
Step 1) Head to our Gram for Gram page, there you will find a list of all our wholesale partners, choose your favourite, or one randomly (they're all awesome).
Step 2) Order some delicious beans online and enter their unique cafe code (hint it's their cafe name all one word) at checkout.
Step 3) That's it! You get 10% off your order, they get a 100% credit for every gram you purchase!
From the whole team at Marvell we want to say a huge, massive, epic thank you to all our wholesale customers and our retail customers who have ordered coffee and continued to support us through these incredibly challenging times. Keep supporting each other, keep supporting your local, we are all in this together!
Big love!
Marvell Street.